Over the past 6 weeks or so since I last went to Bangkok, I've been making incremental improvements to my home office. While it's not quite a minimalist desktop it's cut down to just what I need, plus a couple of zen plants.
The laptop at the left is my own IBM ThinkPad T42 which dual boots Ubuntu 7.10 and Windows XP. The one at the right is my Microsoft-issue Dell work laptop running Windows Vista Enterprise. Each has a 22" Dell LCD attached as their primary monitors.
The keyboard and mouse are connected to the ThinkPad and shared to my work laptop through the Synergy VKVM software. There's 25 watt halogen desk lamps stashed down behind each laptop effectively backlights the whole workspace. The ambient light they throw is enough that the keyboard is visible while still being dim enough to create a good coding atmosphere.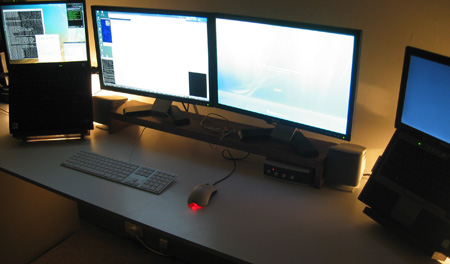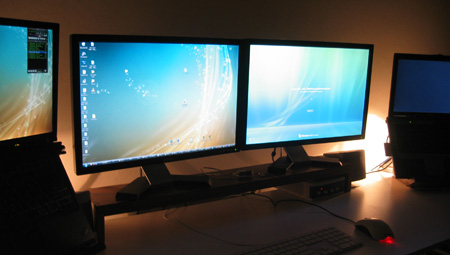 This is the bench I built for my main LCD panels. Initially I made it tall enough for my speakers to fit under it, but it was too high so I cut it down to be 8cm in height and stashed the speakers at the sides. I stained it "teak" but the color really doesn't look like teak to me. I love the color anyway, however you can hardly see it in this shot with all the fingerprints and dust glaring in the camera flash.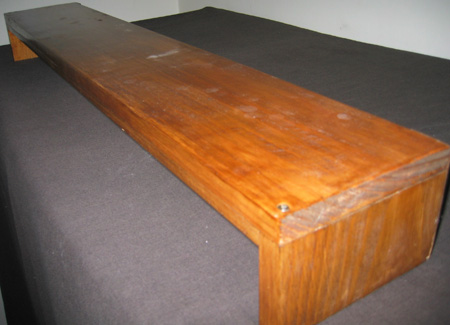 A USB hub is affixed to the underside of the monitor stand. The mouse and keyboard are connected to the hub and a 1 metre cable runs back to the ThinkPad at the left. The brackets were made from some tin cut out of a soup can and folded over a couple of times.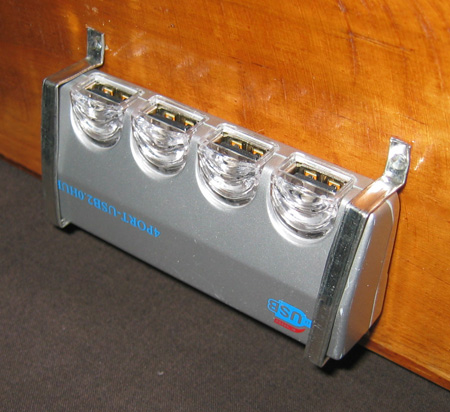 With the hub attached to the underside of the monitor stand the space underneath the stand is clear, and is a convenient place to hide the keyboard and mouse when they are not in use.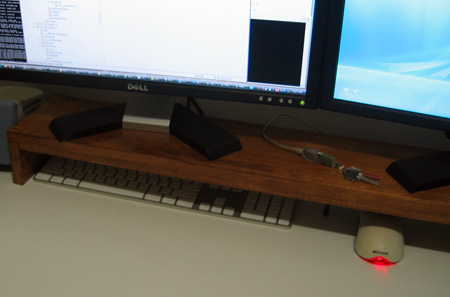 Also attached to the "built-in" USB hub is this extension cable which allows for easy connecting of my 2Gb USB key.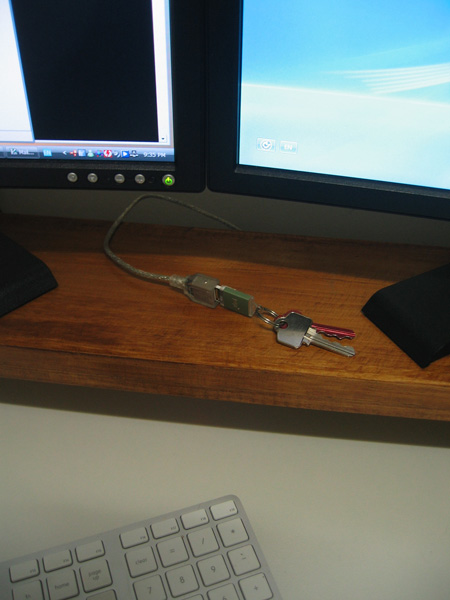 Apple keyboard, and Microsoft mouse, living in perfect harmony, side by side on my piano keyboard, or lord why don't we?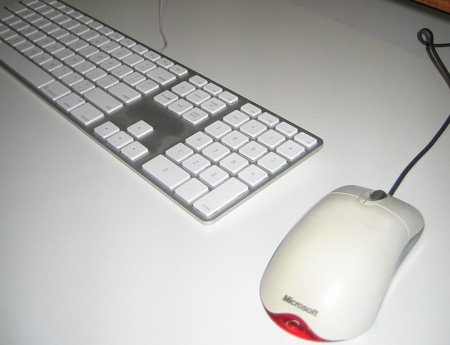 Vista is purdy.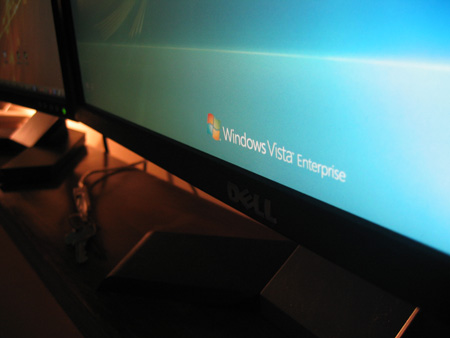 Long shot. Here you can see one of my laptop stands. I built one for each of my laptops. These put the LCD panel at the right height for the laptop to be used as a desktop workstation. They also have a kind of box compartment in the back which hold excess cable length and the power supply. Both laptop stands are stained the same teak color as the monitor stand.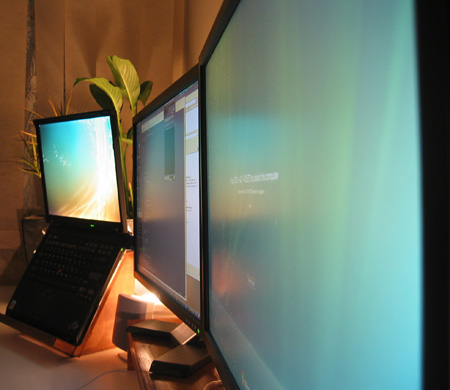 Desktop zen garden.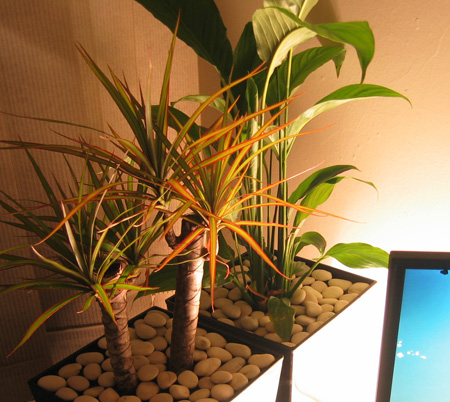 There's a couple of more things I want to do, so I'll post some more pics in the next couple of months.