The new look soundequip.com.au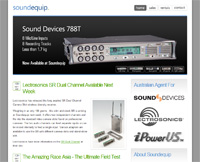 Just finished creating a new website and PDF brochure for my friends at Soundequip.
Soundequip are a very cool company who are really punching above their weight - they supply high-end audio gear to network TV stations locally in Australia, as well as putting together custom sound recordist kits for international productions, including most recently Amazing Race Asia Season 2 (they also did season 1), and Spielberg's latest production: Pacific.
Check them out if you need pro-audio gear for any application.