I've been on-site in Bangkok the last two weeks. Having gotten all my work and expat-housekeeping type tasks sorted out this morning, I went for a relaxed walk around the main Bumrungrad campus and the local area. Here's a few photos.
The main drive-through bit under building 1.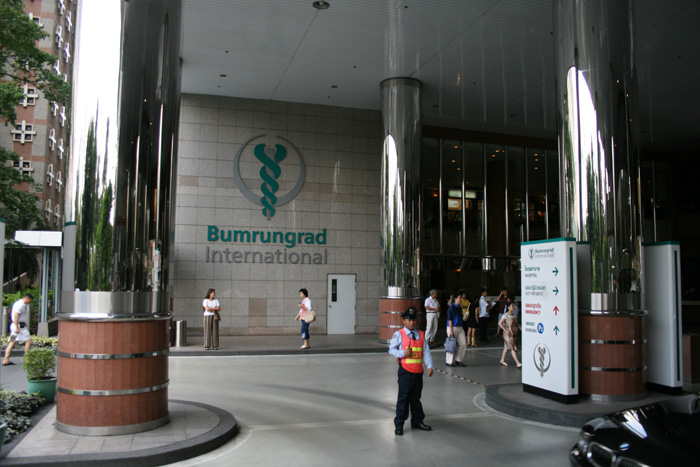 Looking up at building 1 on the right, and the new building at the left which now houses the main outpatients clinic. The new building also contains a ton of the latest radiology machines, some of which are rare outside the US, and certainly are hard to find in Asia. If you need any bodily scanning doing, come to Bumrungrad.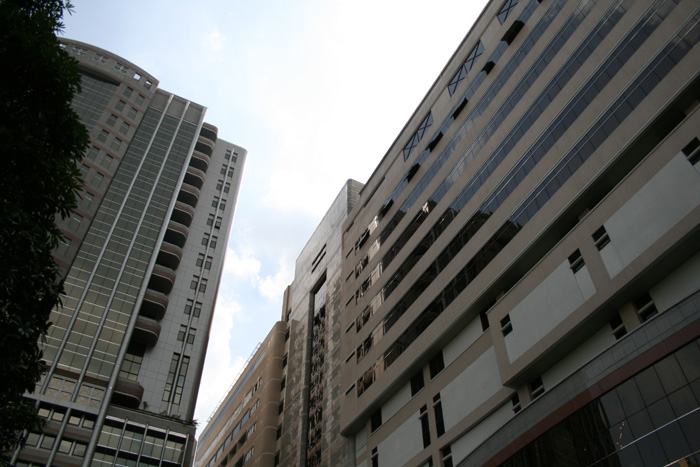 One of the hospital's mobile ICU vehicles, parked outside the emergency area.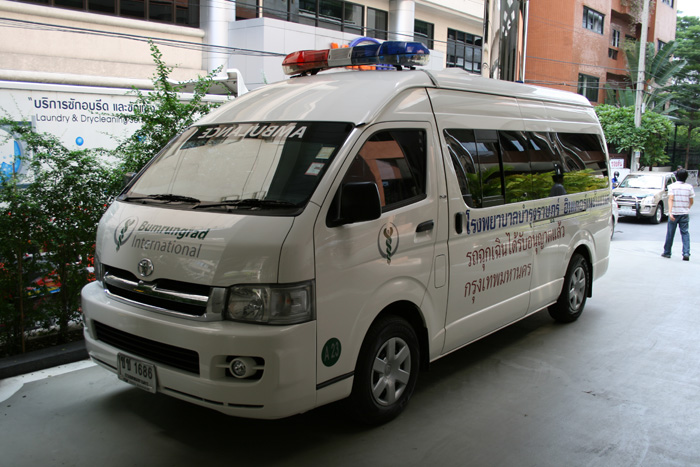 This is the view from our offices at the top floor of building 2. This side of the building faces west, giving us some amazing sunset views, particularly in late December and early January. The combination of smog and latitude make the sunsets in Bangkok particularly beautiful. This photo is looking south-west towards Wireless Road and the Ploenchit BTS station.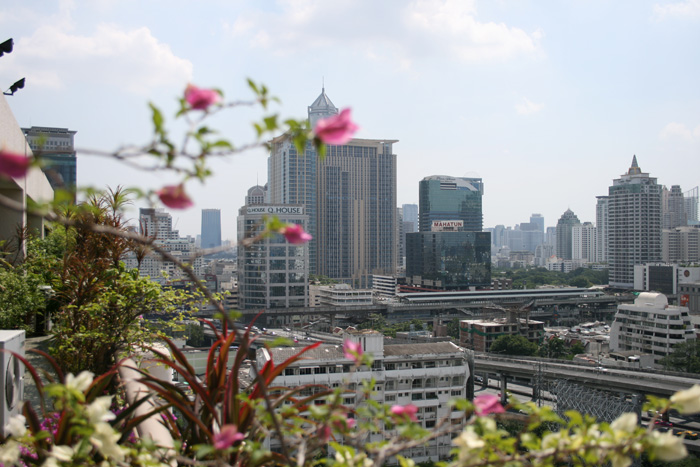 This is soi 1, one of the two streets that you can access the hospital from. I had to take this photo because of the astounding absence of traffic. On weekdays this street is frequently like a car park with traffic backed up all the way to Sukhumvit Road.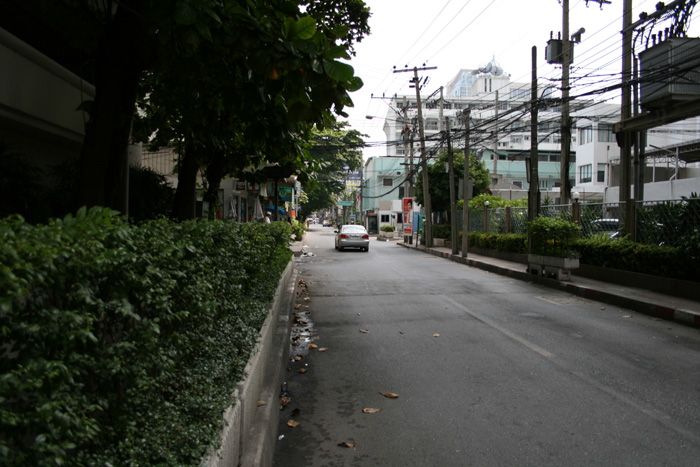 The little sub-soi next to our offices. There's a bunch of little restaurants here where we often go for lunch.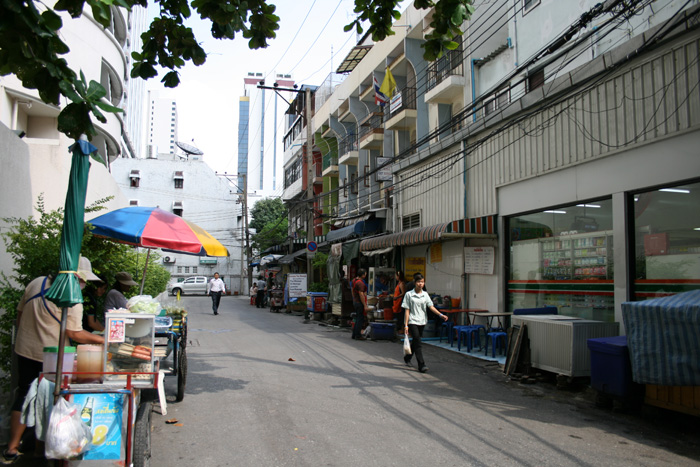 One of the two towers that constitute the main offices of the Krung Thai bank in uptown Sukhumvit. The picture is of course, HRH King Bhumibol.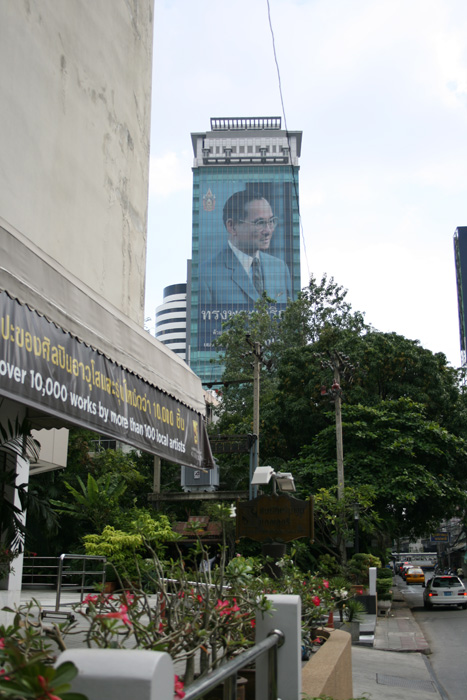 The Bangkok governor elections were on today. One of the candidates is Khun Chuwit. His advertisements feature him with a pair of binoculars making various serious faces, which I find hysterical. Chuwit made his money running massage parlours and yesterday he had to issue an apology for punching a journalist following an interview on Friday. Chuwit said he lost his temper when the reporter didn't thank him after the interview. I imagine that had Chuwit won, Bangkok would have ended up looked something like the Back to the Future alternative reality when Biff was in charge of Hill Valley. Anyway here's some of Chuwit's ads with my translations:
I see: Bangkok is good. Why the need for 1 billion baht advertisements? Give Chuwit an opportunity!". Not sure what advertisements he's referring to there, but here's his: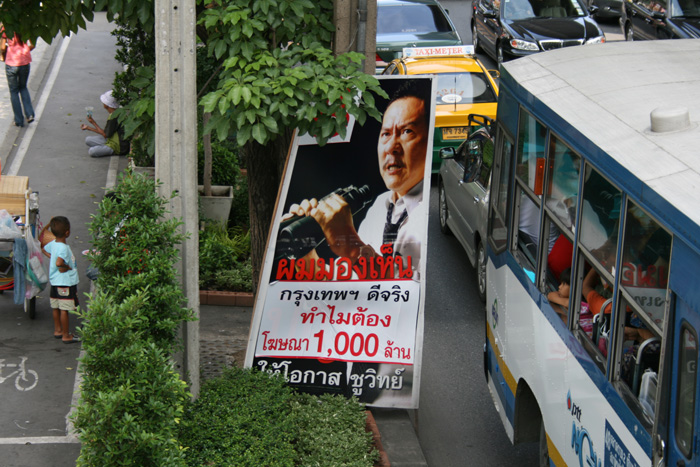 "I see: The BRT service. After four years we still have only one line. Give Chuwit an opportunity!"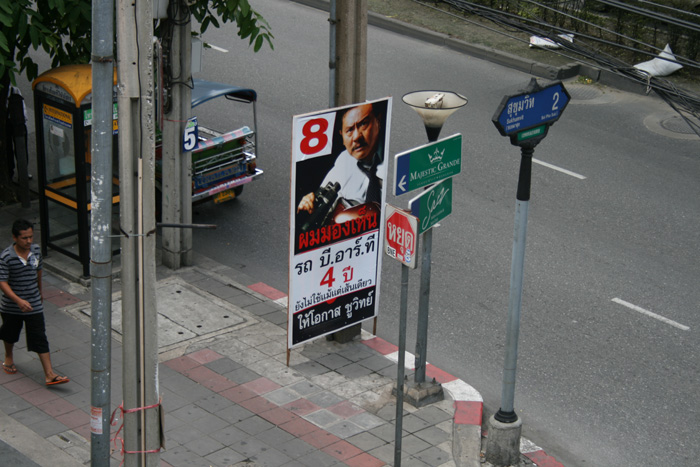 Finally in an Obamaesque vein: "Select Chuwit for change in Bangkok. Give Chuwit an opportunity!"