I previously wrote up the tablet-based dev environment that replaced my MacBook Air along with four of the key drawbacks that you should be aware of if considering this approach. Today I'd like to share 4 advantages that the tablet option has over a laptop.
1 - It's a Tablet!
Having a tablet device as your portable workstation means when you're not doing work you can do all the other stuff you do with a tablet.
For me the killer secondary apps are watching tech presentations on YouTube when I'm in the air (via YouTube's offline feature) and reading Kindle books without carrying my Kindle with me.
2019-04-21 - UPDATE: I've written a script that lets me download YouTube videos onto the SD card in my M3 for more flexible offline viewing options.
This was really brought home for me when I was in economy class on a flight recently and the guy next to me had to angle his laptop up so the hinge was resting on his lap in order to fit it behind the seat in front! An 8" tablet sits easily on the tray table (even next to a tray if necessary).
If you need to do a little work on the plane you can connect a keyboard and mouse via wired OTG connector rather than using Bluetooth.
2 - Peripheral Choices
One of the key things that improves ergonomics is the fact that you're using a real keyboard and mouse.
The Apple keyboard has worked out very well for me and the Logitech MX Master 2S is a fantastic mouse especially for me with relatively large hands. I can work on these peripherals all day pretty much as comfortably as using the full-sized Apple keyboard and another Logitech MX Master 2S on my dev workstation at home.
A benefit to the peripherals being separate devices is that you can leave them in your bag when you don't need them. For example if you are just want to watch a video or read a book on a flight or navigate a foreign city using Google maps then the keyboard and mouse can stay in your bag.
One note of caution is using Bluetooth can be a problem if you're in an area with a lot of other devices. For example I ALWAYS get dropouts when I use this rig in the food court at Emquartier where our office is simply due to interference from other devices. If necessary you can connect both these devices directly to the tablet via USB OTG.
3 - USB Charging
Tablets charge via USB, laptops charge with a device-specific wall-wart power supply - although this is finally changing with the advent of USB-C.
USB charging is fantastic for portability because:
ONE sufficiently rated USB charger will charge your phone, portable dev tablet, powerbanks and anything else you need
You can charge your tablet when you're on the go using a regular powerbank
For long trips I have a 5-port USB charger with fast-charge support that lives permanently in my suitcase so it's always there when travelling: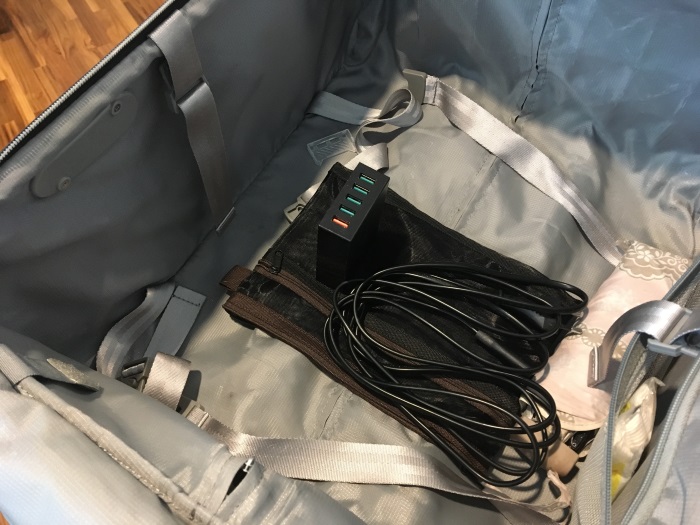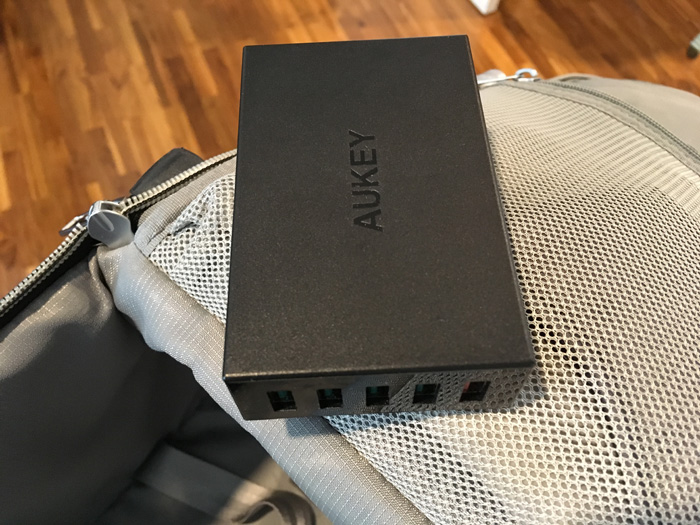 With this we can charge our phones, tablets and a couple of powerbanks as well as run my Raspberry Pi-based mobile wifi router off a single wall socket. There's also a 6-port version that has two fast-charge ports.
4 - Touch
As a tablet it's inherently a touch device. Depending on what remote apps you run this may or may not be a big advantage.
One occasion this came in very handy was when I was standing in the queue to checkin to a flight and realized I didn't have my booking confirmation with me. I was able to pull out my tablet, Remote Desktop and open the PDF from my desktop PC at home with no keyboard or mouse.